The ghost of isis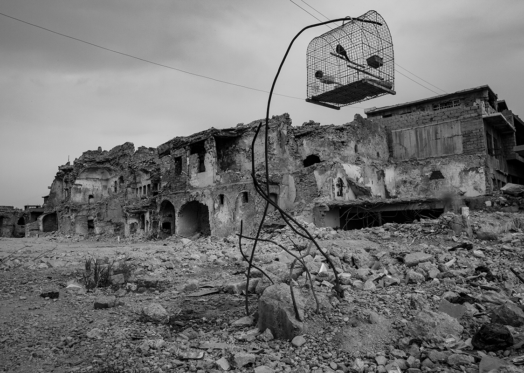 Tons of rubble. Mountains of rubble. This is what you see walking around the old city of Mosul. Children play among twisted metal sheets, charred cars and shattered facades of ancient Ottoman buildings. Paths of stones and bricks climb through the ruins to the hovels where a few families have returned to live and red flags signal the presence of unexploded ordnance and trunks that no one dares open.
More than five years after the defeat of the Islamic State in the bloodiest urban warfare since World War II, the town is half-destroyed. Schools and hospitals are in pitiful condition. Thirty-five churches have been damaged or razed and most of the Christians are gone.
If the smell of death is gone, the infamies of war are omnipresent. And a tragedy within a tragedy is the fate of Isis family members. Almost half of the detainees in the nearby camp of al-Hol, where 60,000 suspected jihadist are imprisoned with their families, are Iraqi nationals. A few hundred have been moved to three camps around Mosul. But thousands of undocumented wives and children of killed or imprisoned fighters are living off scraps in slums, abandoned buildings or tribal communities in the urban belt. Children cannot go to school. Women suffer violence and many are forced into prostitution to survive. They call it ashbal al-Khilafi, the lost generation of the Caliphate.
Ahmed, 16, lives with his crippled mother in al-Intisar, a former stronghold of al Qaeda and the Islamic State. "My father" he says "was a Daesh militiaman and died in the battle of Mosul. We were barricaded in the old city. The shelling was incessant: helicopters, planes, mortars. We ate leftovers found in the streets. Snipers were shooting at us and I was hit in the arm. After the war I went to work in a yogurt factory. I couldn't go to school. Relatives don't help us, they consider us a terrorist family. No one comes to visit us".
The ghost of the Caliphate is still around. There are signs that it's in the midst of reorganizing its ranks and recruiting new fighters. Ambushes and suicide bombings have intensified in the north and west of the country and still pose a widespread danger: an Isis arms factory has been recently dismantled in the Kirkuk province; bloody clashes take place almost daily.
South of Mosul, a short distance from the temples and columns of the ancient city of Hatra, a trench stretches across the sand: tanks, artillery pieces, men armed with Kalashnikovs and Rpgs, night vision cameras. The line of defense of Ansar al-Marjai Shiite militias seems to face an uninhabited desert, empty and flat to the horizon of the Syrian border. But the enemy lies in wait. Then suddenly pops up in the middle of the night.