that house in mogadiscio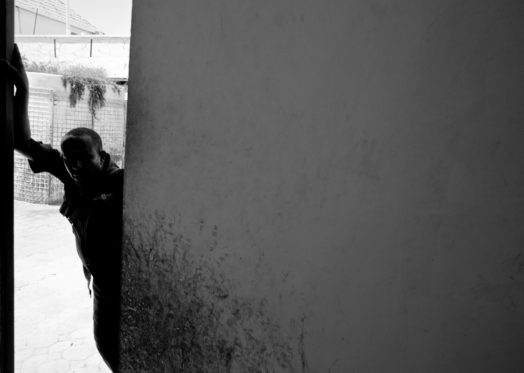 One street-end is closed by a towering concrete wall, the other is barred by a tangle of road-blocks swiftly manned by guards in combat gear. I hear the familiar clicks of safety locks let loose on their weapons as they stare at me through the car front window. But as I walk past the reinforced metal gate and step into the courtyard, I suddenly feel at home. The mighty ficus tree is still there in Sterlin's garden, with its twisted roots winding up the trunk and the thick leafy branches spreading green shadows on the colorful pillows of the wooden sofas. This was my shelter in the savage years of the civil war. And now I sit again under the tree, talking and drinking tea. "Some are not with us anymore" says Hersi. "But hamdu lillah we're still alive".
Sterlin has gone long ago. But Hersi is still here. And Mariam and Deqa are sitting on the sofa. "This house is your house" Sterlin once told me, and she meant it. She was my best friend in Moga, steering me through the complex meanders of Somali politics, the obscure tribal rivalries, the ruthless street battles and the cold-blooded warlords. "Women don't make wars" she kept saying "although they pay the highest price". That's why she set up Iida, an all-female Ngo, to promote education, human rights, inter-tribal workshops and centers for the re-integration of the moriaans, the one time baby-killers nowdays morphed into terrorists on al-Shabaab's payroll. Sterlin was brutally murdered in 2002. And her sister Halima has taken over the Ngo.
Hersi, Sterlin's cousin, lights up another cigarette. As in the bad old times, with a cal.9 handgun at the belt and his bunch of AK47 boys, he is still my trusty bodyguard.
His elder son Yasin has also gone, gunned down by al-Shabaab in the 2013 bloody attack at the Westgate department store in Nairobi. Mariam, Yasin's pregnant wife and Sterlin's niece, was at his side but went unscathed. "It was hard" she says. "And even harder for my daughters. We were broken". But Mariam didn't surrender. She fought back her pain and stood up again. She's been appointed Somalia's Special Envoy for Children's and Migrants' Rights and National focal Point for Countering Human Trafficking. And her sister Deqa is now a high ranking minister in the federal government, in charge of Women and Human Rights Development.
Sterlin's legacy isn't lost. She would be proud of her girls.
1 Comment