Ni vivos, ni muertos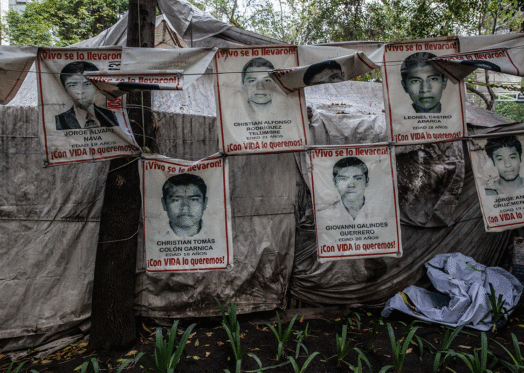 The road to Ayotzinapa winds up the hills of the dreaded Sierra de Guerrero, a major drug producing and trafficking hub where coca and poppy fields have replaced coffee plantations and soldiers man checkpoints between rival gangs of narcos militias. It's a land of sicarios, peasants' uprisings, armed insurrections and utter poverty.
The Raúl Isidro Burgos rural school in Ayotzinapa is a large compound at the edge of Tixtla, a small campesino town at the foot of the mountains. From here, on September 26, 2014, a group of teacher-training students set off in a convoy of buses heading to the city of Iguala, where the buses were stopped and shot at by police officers working with a criminal gang: by the end of the night 43 students, forced into police trucks, had vanished. Five years on, their whereabouts are still unknown.
President Andrés Manuel López-Obrador, who took office in December 2018, promised to solve the case, which has become a symbol of Mexico's violence, impunity and broken rule of law: he named a special prosecutor and announced a new inquiry. But Cristina Bautista, who is grieving the loss of her son Benjamín and is an active member of the Comitato Padres y Madres de Ayotzinapa, is unconvinced: "Until now we had nice words, but no results".
The 43 students are among the more than 40,000 registered Mexican desaparecidos. They could be even much more. Faced to the unconcerned attitude of the past governments, the mothers took matters into their own hands: they picked up shovels and started to dig for remains wherever tipped of a clandestine grave. They unearthed hundreds of decomposed corpses, thousands of garbage bags with dismembered body parts, tens of thousands of bone fragments, broken skulls and charred jaws.
Common graves (1,100 to date) are surfacing all over the country. And at least 26,000 unidentified bodies lie rotting in the morgues. Hundreds have been illegally incinerated in crematoriums and in military bases, among them – most likely – the 43 students of Ayotzinapa. "Maybe they are not alive anymore" mothers say. "But for us they are not dead until we'll bury them".
That's why las madres buscadoras keep digging. All they need is a shovel, a bottle of water and a sombrero to shield them from the blistering sun.