Kyiv under siege #1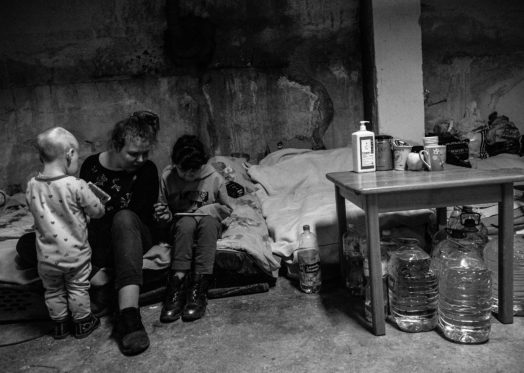 I've seen it before. The men dragging sandbags in the streets. The eerie sound of the sirens. The half-empty houses with faces at the windows. The thunder of a sudden blast. The shelters full of tears. The check points. The lines of refugees. The silent cold. The smell of fear.
I've reached Kyiv on Russian-invasion-day-five. Thousands, mostly women and children, packed on the platforms, waiting for the train to come, struggling to get a ride to some safe haven across the Polish border. I was going the other way, into the war zone.
My room at the Kozatskiy Hotel overlooks the Maidan, Independence square. There is no one around but journalists wearing helmets and bullet proof vests, militiamen on patrol and a few passers-by hurrying back home at the start of curfew.
I've been told there is a shelter in the basement but I didn't even bother to inspect it: alarms sound every hour and and although missile attacks have intensified in the last two days, explosions are still far away. Only one rocket has so far hit the city centre, damaging the telecommunications antenna and killing five civilians, some four km from here.
The hotel's restaurant is not working, so we had to make provisions of water and food in the few shops that are still open. Gasoline is difficult to find and almost all petrol stations are closed: it's the most serious problem because it restricts our movement and makes it more difficult to plan an escape route.
We don't know what will happen in the next few days. A large convoy of Russian vehicles and tanks is slowly advancing from the north and it has reached the city's outskirts. A battle is raging at Bucha, less than an hour's drive away. The civil guards are erecting barricades and blocking access roads. Nervous militiamen search cars and check IDs. Taking photos and filming is getting more risky. Civilians suspected of being saboteurs or Russian spies are arrested and treated harshly.
Kyiv is virtually under siege. A large part of the population has abandoned the city, which appears half-deserted. Those who have remained are living underground.
I saw children with cancer lying on mattresses in the basement of a hospital. And women giving birth in air-raid shelters.