Island in the storm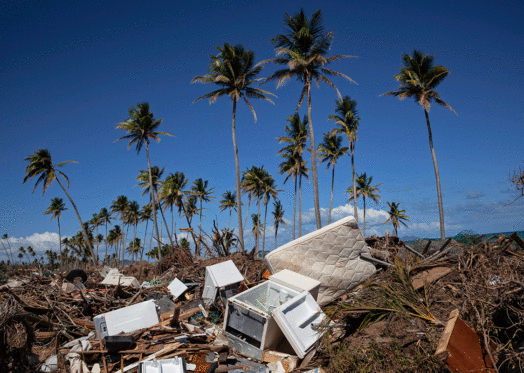 Pitch black. The whole town in the dark. A few laggards wander the cobbled streets of old San Juan with torches in hand. It's Wednesday night, April 18, and the only bright lights for miles come from the Hiram Bithorn stadium, where the Minnesota Twins and the Cleveland Indians are playing a baseball match. A massive blackout is crippling the country after an excavator downed a trasmission line during some reparation works.
Hurricane Maria struck Puerto Rico on September 20, 2017. Heavy rains and 200 km per hour winds killed more than 1,000 people, destroyed 80 percent of the power grid, smashed 87,094 homes, unearthed thousands of trees and wiped out 80 percent of value crops. Seven months have gone since then. But the island is a long way from full recovery.
Everywhere I went on a five days trip – from the sandy coastlines to the tropical forests of the rugged high hills – I found the same: fallen poles, hanging cables, disrupted roads, damaged buildings, empty houses, out of business shops, huge piles of wrecked furniture, concrete rubble, metal scraps, broken tv sets, dumped appliances, twisted toys, ripped matresses. And a sense of abandon, a deep disentanchment.
A farmer in Naranjito is still living with his family of five without electricity and with a plastic sheet as a roof. "There's no more fish in the sea" says a fisherman in Punta Santiago. And an old woman in Corozal tells me she's alone and sick, and she wants to die.
FEMA, the Federal Emergency Management Agency, is still distributing food and water supplies; and the Army Corps of Engineers is still picking up tons of debris. But the next Atlantic hurricane season is approacing. And lots of people still lack a permanent safe shelter.
What went wrong?
Analists say that the federal response to Maria was initially slow. And that the earmarked means and money were either delayed or largely inadequate: well below the efforts put in place when natural disasters struck Texas and Florida. This points to a focal side of the story. Which is political, and isn't nice.
Puerto Ricans are American citizens, but of a second class. They cannot vote in presidential elections, they have no voting representative in Congress and they have no electors in the Electoral College that ultimately chooses the US president and vice president. Because Puerto Rico is not an American state: it's a "territory", acquired in 1898 after the Spanish–American War. And according to a recent poll, barely 50 percent of mainland Americansknow Puerto Ricans are fellow Americans, albeit with lesser political rights.
That's why there is an understandable, bitter and widespread resentment here. Which Donald Trump managed to invigorate in a trashy way. The president paid only a quick visit to the island 13 days after the hurricane: in a church he threw a few rolls of paper towels to the attending crowd, hinted that Puerto Rico was responsible for its own disaster and then left. Not without twitting about the "fantastic job" he was doing in Puerto Rico.