Havana blues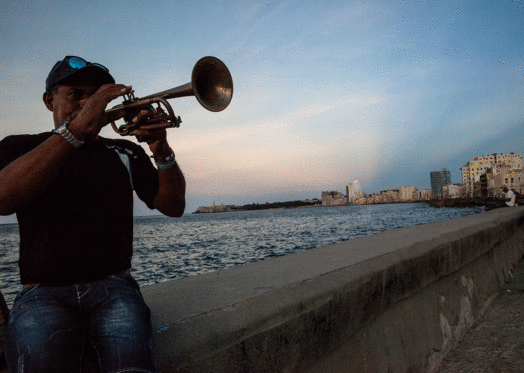 The mood is quite somber as Havana prepares to celebrate 500 years of its foundation. The stunning historical downtown district has been cleaned and polished, ancient buildings have been restored and carefully repainted, fleets of old pastel color American cars line up for tourists. But 5 stars hotels are nearly empty and the casas particulares struggle to find guests. Don Onofrio, a retired university professor, enjoys the view of the ocean from the balcony of his house on the Malecón. In the paladar he offers cold beers and home made ropa vieja. "It's going badly" he says. "Prices are climbing and chicken and meat are harder to find".
As I walk the back alleys in Vedado at dusk, I peer through the open windows into basic yet tidy small flats where old women gaze wearily at second hand tv screens and young girls cook food to sell on the streets. Doña Ana invites me in. She says her 280 pesos a month pension, 11 dollars, is barely enough to survive and several items are only available on the black market.
Since Donald Trump unleashed a new round of sanctions to the island, targeting oil shipments from Venezuela and Cuban import-export state company, the economy is in dire straits. Crude oil inflow halved to 50,000 barrels a day prompting an energy crisis and food, which is 60% to 70% imported, is now rationed. Oxen have replaced tractors in sugarcane fields, textile factories are urged to save light, offices are cutting working time and public transports run at reduced schedules. A ban on US cruise ships, enforced by Trump last June, is a major blow to tourism. And in September the cap on remittances from Cubans in the US was sharply narrowed.
As the government is forced to tighten its grip on the economy, so it does on every aspect of social life. Scores of human rights activists, journalists and opposition leaders have been arrested.
Jorge Ángel Pérez, a renowned writer and outspoken dissident who's been jailed and is constantly harassed, lives in fear in the simple house he shares with his ailing mother, his dog Gogol and his books. "It's so sad" he tells me "to see that our youngs' only dream is to run away to the US, mistaking freedom for the chance to buy an iPhone or a crate of beers. It's sad to see our girls chasing foreigners and their money".
We get close to a window and Jorge points to a man who is drinking rum in front of a shop. "That drunkard, a petty thug and a police informant: he wants to frame me. They must be more scared than me if they fear my words. And yes, I am scared. But I'll never stop writing".