Donbas no man's land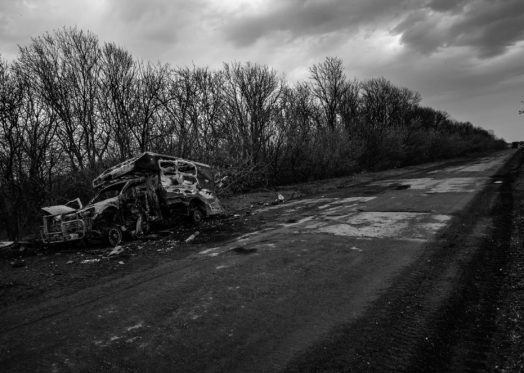 Past the block post and the mud trenches a narrow broken road cuts through the open fields towards Popasna. There are tracks of tanks on one side and the charred wreckage of a vehicle struck by a rocket that sits in the middle of nowhere. No cars and nobody around in the combat zone. People have fled. Homes, farms and villages were evacuated. All that can be seen are abandoned dogs and storks perched in their nests on the light poles. All you can hear is the roar of artillery fire getting closer, and the tapping of rain on the windscreen. The sky is low, dark and gray over the Donbas flatlands. A new offensive has begun.
A rusting yellow school bus is carrying a dozen fugitives from Popasna, mostly women and sick old men. Half of the town, they say, is lost to the Russians: house to house fighting is now raging day and night. About 2,000 civilians, among them many children, are still trapped inside without gas, food, water and electricity.
Ukrainian soldiers and territorial defence are ready for a long battle. They placed their positions and command posts on the lines of the enemy's likely advance. They dug ammunition storages behind the trenches and used timber and soil to build underground camouflaged fortifications where they sleep, wait and smoke sigarettes around a wood stove. They are receiving new anti-tank and anti-aircraft weapons and they are determined to resist.
Heading back north I pass through Kramatorsk, where a truck driver was killed by a rocket while unloading lime in a cement factory. Among the twisted metal sheets, rubble and fragments of the exploded fuse are two shoes, a lighter and a strip of blood washed away by the rain. Then I drive north-east. In Lyman the evacuated city hospital is on fire. From Kreminna the Russian forces reached Zarichne, which is now the new frontline on the way to Slovians'k. More villages are falling, although Putin's armies are proceeding slowly: they want to first sap the morale of the Ukrainian resistance and force the remaining population to flee by terrorizing them with rockets and heavy artillery pounding.
In the Donbas the war is already eight years old. I take notes: ghost towns, empty schools, ruined buildings, old industrial chimneys, crumbling streets, cemeteries, a stall selling smoked fish, closed banks and stores, drunks in a liquor store, an old guy walking on crutches, a grocery with empty shelves left open for a couple of hours, a woman crying, a man repairing a door shattered by an explosion, military ambulances, soldiers digging foxholes in the woods, the eyes and faces of silent children through the broken glass of a window. I don't think they care much if the Russians or the Ukrainians will prevail.