Cocaland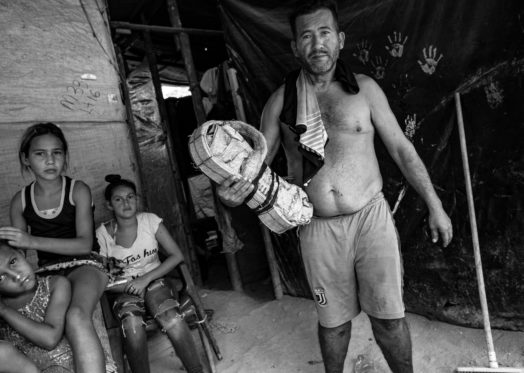 "Are you really going to that shit hole?" Even my hardened fixer in Cúcuta was skeptical. But I was teaming up with Msf on a survey mission and felt safe enough even after the grim security briefing: never walk alone, mandatory 6pm curfew, no pictures unless agreed by the local guerrilla leaders and open windows in the car. "Why?" "To hear the gunshots".
La Gabarra, a remote hamlet in the Colombian northeastern department of Norte de Santander, has a bloody record of mass killings, assassinations, forced displacement, kidnappings, child recruitment, drug trafficking and warfare between a plethora of armed groups: the National Liberation Army (ELN), ex-members of the FARC who reject the 2016 peace deal, the Popular Liberation Army (EPL), militias formed by right-wing former paramilitaries and rambling criminal gangs.
Past the last check point in Tibú, the regular army disappears and the road – a bumpy dirt track – winds through the Catatumbo hills, a lawless region that hosts the world's largest concentration of coca crops. It's a huge business, since 650 dollars of leaves can be converted into one kilo of cocaine worth 7,000 dollars in Colombia, but 150,000 dollars in New York: a multi-billions trade on which the ruthless Mexican cartels are now getting their hands.
In La Gabarra the guerrilla's warnings on the walls leave no doubt about who's in charge. The village itself has a last frontier's atmosphere, with beer-stinking pool halls blaring narcocorridos and smugglers loading boats down the ramshackle river port.
Rio Catatumbo is a cocaine freeway which flows into nearby Venezuela: there the product is shipped abroad by plane from a network of clandestine airstrips close to the border. Turf wars, armed clashes and summary executions are so common they are barely reported. Corpses appear randomly in the thick jungle, in waste dumps or in abandoned cars and the cemeteries are full of nameless graves.
Despite the violence, the armed groups are somehow tolerated by the people: they apply a form of control and rough justice in the absence of official law enforcement. And, after all, everybody has a stake in the business: the coca farmers, the smugglers, the boat owners, the fuel sellers, the gangs that collect the fees, the displaced and the Venezuelan refugees who work in the fields.
On the plantations the "raspachines", the coca pickers, are given free meals, sleep in hammocks and earn 50,000 pesos per day (14 dollars).