A road to nowhere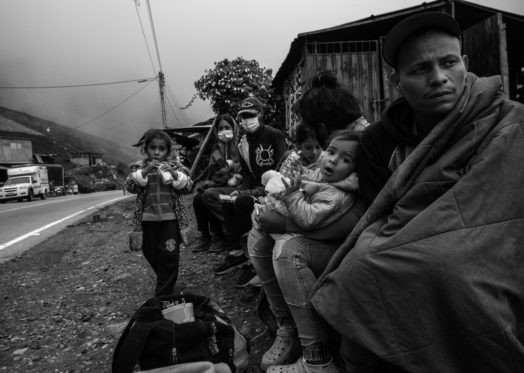 "I'm goin' to Medellin to join my family" says José. "I've never seen my two years old son". "I go to Peru" says Veronica. "Maybe it's easier to get a job there". "I was a nurse in Maracaibo" says Pedro. "My monthly salary was half a dollar. Can you believe it? No way to feed my three children with that".
The massive exodus of Venezuelans, the largest migration crisis in recent history, shows no signs of slowing down. More than six millions have already left the South American country, caught in a downward spiral of skyrocketing hyperinflation, power cuts, severe shortages of food and medicine. Almost two millions have poured into Colombia and they keep coming, braving the dangers and the harsh pitfalls of the "ruta de los migrantes".
With all frontier posts officially closed since March 2020 because of coronavirus, migrants cross the border on lawless smuggling trails, known as "trochas", where armed groups extort them, rob them and sometimes rape them. Criminal gangs charge fees per person, babies included, from 10,000 to 50,000 Colombian pesos (3-14 dollars), depending on the bags they bring with them.
Thousands of girls, some as young as 13, end up working as prostitutes in the border brothels and on the sidewalks of Cúcuta, a major entry point in Norte de Santander: "Sexo para sobrevivir", sex to survive. "I don't like it" says 22 years old Maria. "Some customers are filthy and drunk, they call me bitch and puta. I hate when they touch me. But what can I do? I must feed my two children".
I meet dozens of people on the migrants' road. Pregnant women with newborns in their arms, barefoot kids pushing strollers full of rags, young men asking water and survival kits. No one gives them a lift. They walk for weeks in silent files up and down the hills, under the rain or the blistering sun, resting at the edges of the asphalt track, sleeping under the bridges wrapped in a blanket or a plastic sheet.
It's a long walk on foot to Bogota, 650 km away. And they must climb 3,500 mt to overcome the dreadful Paramo de Berlín, where there are no shelters and the temperature at night drops below zero. They lit candles and burn paper to fight the cold.
They are teachers, unskilled workers, musicians, campesinos, housewives, students, unemployed. All they want is a job, any job, anywhere. "Our lives are lost" says Eduardo, a 45 years old engineer. "But our children deserve to go to school and have a future. Or a hope, at least".